To carry out the transport of personal effects, we must take into consideration the different types of trucking services that exist. This way we can better choose the most suitable for the type of property we are going to move.
The first difference or factor to consider is whether the transfer will be nationwide or from one country to another. In this article, we will see the different vehicles available for ground freight.
Types of truck for a local move
Depending on the volume of what we need to transport, we will determine the type of vehicle you are going to need. At the same time, there are several factors that we need to take into account so that the cost is as low as possible and your goods travel safely to their destination.
Van for parcels and small furniture
In this type of transport, a family vehicle is used for small items such as small furniture, packages, boxes or even pets. They generally load up to 400 kg and a maximum volume of 3 m³.
Moving by pick-up
It is the vehicle most commonly used for this service since it's very practical. It has roughly the same capacity as the previous transport, with a big advantage, it doesn't have a roof. Thus, the loading volume is much higher, which makes it possible to transport bulky and oversized items.
It is very important not to overload the truck for the safety of the driver, the vehicle and the items itself. It is generally used to transport building materials, wood, glass or large appliances such as refrigerators, washing machines, kitchens and / or bicycles.
Small truck (4-wheel truck)
This transport is able to carry out a complete move from a small apartment or what fits into a two-room apartment, it has a load capacity of up to 2000 kgs and approximately 5 to 8 m³ of volume.
The big difference with the truck is that the items travel more safely. It is perfectly suited since it facilitates the loading and unloading of goods.
Medium Truck (6-wheel truck)
If we need to move large goods, this shipping method is recommended because it has a larger load capacity and the size of the truck is larger as well, can load up to about 3500 kg for the capacity of around 12 m³.
Large Truck (10-wheel truck)
It is the largest vehicle used to transport goods with a load capacity that greatly exceeds the previous options since it can carry up to 7000 kgs and almost 30 m³.
Container truck (12-wheel truck and more)
These trucks must be certified according to ISO standards, being the most common for international transfers. It was created to keep goods dry and in optimal condition thanks to container transport.
As can be seen, in order to carry out international shipments, it is not only necessary to know the volume of the goods to be transported, but also the necessary conditions so that they arrive in good condition at their destination.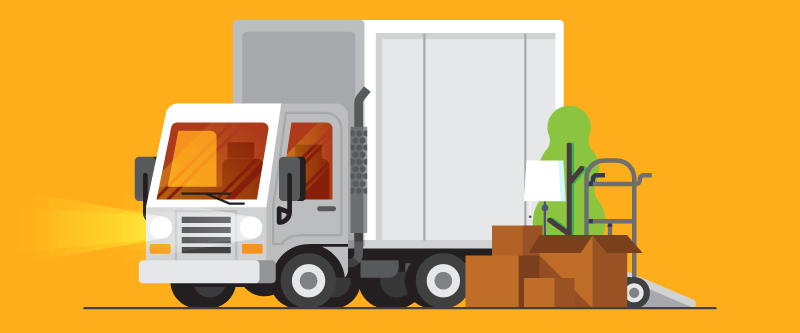 Road services in an international move
When we talk about long-distance international moving, the majority of the process is not handled by truck. Indeed, it is an expensive and slow method to transport over long distances.
On the other hand, what will make the link between your house and the warehouses? A truck… And what will make the link between these warehouses and the various terminals (port, airport or station)? Another truck ...
If our driver does not assist your goods from A to Z, he will be there to make the links between the different spots (both at the start and at the finish).
How to get a quote for a move?
The procedure is not complicated, it is even extremely easy! All you have to do is go to the contact page and fill out our online form. Subsequently, a DocShipper consultant will contact you within 24 hours to define with you the needs and offer you a personalized quote. There you have our offer!
DocShipper China | Procurement - Quality control - Logistics
Alibaba, Dhgate, made-in-china... Many know of websites to get supplies in Asia, but how many have come across a scam ?! It is very risky to pay an Asian supplier halfway around the world based only on promises! DocShipper offers you complete procurement services integrating logistics needs: purchasing, quality control, customization, licensing, transport...
Communication is important, which is why we strive to discuss in the most suitable way for you!