International transport is a complex field that calls on a multitude of suppliers, each with these specializations, his area of expertise... Express transport is one of these broad categories. It is generally used for sending small parcels since it is competitive on sending small volumes. Docshipper can help you thanks to its expertise!
What is a move with express services?
When we speak of express transport, we are referring to several companies which we call express companies or "Courier companies" in English. Well known to the public, these companies are based all over the world: DHL, FedEx, UPS, TNT, Aramex ... To name only the most famous.
How express companies charge for their services?
Before we jump into an explanation (albeit a simple one), we need to explain a very important concept that many of you make a mistake about. It is important not to forget to always compare the gross weight (on the scale) and the volumetric weight (depending on the dimensions). This notion is very important so as not to have a bad surprise on the day!
Volumetric weight Vs Gross weight
Differentiating the two is not very complex ... On one hand, you have the gross weight that you get simply by weighing your goods. On the other hand, you have the volumetric weight, which is based on a very precise ratio: 1 m3 = 200 Kgs.
The carrier will use the heaviest weight to bill for the service.
Simulation of an Express transport price
Let's say you sent 2 boxes with the following characteristics: volume of 1 m3 each and a weight of 75 Kgs each. In addition, the DHL price is 9 USD / Kgs.
Ultimately, your plot weighs 150 Kgs for a volume of 2 m3. Now we will compare the dimensional weight with the net weight.
On the one hand we have 150 Kgs in net weight, on the other the 2 m3 represents a volumetric weight of 400 Kgs. The transporter will thus be based on 400 Kgs which is the volumetric weight.
To determine the final price, simply multiply the price with the taxable weight: 400 * 9 = 3,600 USD
DocShipper Tip: When talking about express services and especially pricing, it is important to compare retail prices (those officially published on the company's website) and agent prices (those provided by third party agents like DocShipper). It is often better to use an agent, who sometimes can save you up to 50% compared to official prices. Contact us for more informations.
DocShipper Express | Compare prices online in a few clicks!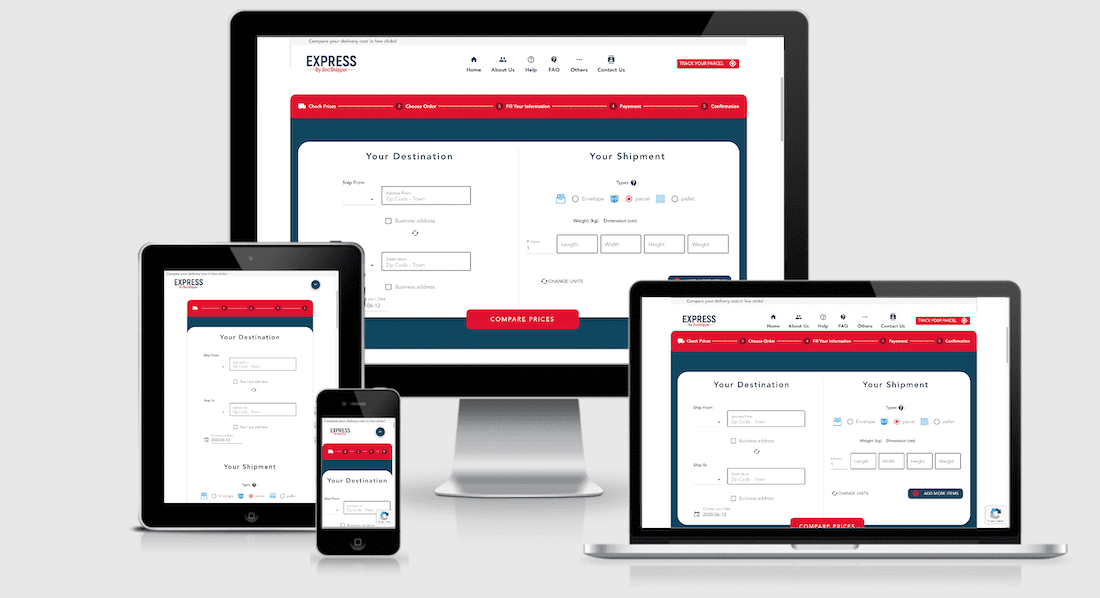 Link of DocShipper platform : DocShipper Express Comparator
DocShipper Note: Express service is a good alternative if you have some goods to transport. It is a solution that is competitive, fast and also very simple! However, this solution quickly becomes expensive if you exceed a certain volume / weight. Generally (even if it depends on the origin and the destination among others), we recommend this solution if you have a plot of less than 0.5 m3 or 100 Kgs.
How to get a moving services quote?
The procedure is not complicated, it is even extremely easy! All you have to do is go to the contact page and fill out our online form. Subsequently, a DocShipper consultant will contact you within 24 hours to define with you the needs and offer you a personalized quote. There you have our offer!
DocShipper China | Procurement - Quality control - Logistics
Alibaba, Dhgate, made-in-china... Many know of websites to get supplies in Asia, but how many have come across a scam ?! It is very risky to pay an Asian supplier halfway around the world based only on promises! DocShipper offers you complete procurement services integrating logistics needs: purchasing, quality control, customization, licensing, transport...
Communication is important, which is why we strive to discuss in the most suitable way for you!