At DocShipper, we have the experience, the technique, and the people to meet your packaging requirements, wherever they are! We adapt to the needs of the market and the nature of the move, allowing us to easily (and quickly) offer quotes for all our services. Assembly and disassembly, packing into boxes, a realization of a wooden crate, fumigation of wood ... We take care of the packaging in accordance with international standards.
International moving services for all
We offer international (and local) moving services to individuals, companies, institutions and public bodies. We guarantee that your move is economical and safe, hence the importance of packaging.

Likewise, we have a staff specialized in packaging services, international transfers, dismantling and assembly of personal effects ... We can provide a premium service (all-inclusive offer) such as an ECO package throughout the world.
Protect your belongings when moving
If you are in the midst of a move and looking for a company to support you with your packaging needs, DocShipper is here to help!
Our removal company puts these years of experience at the service of your personal effects, they will be treated as they were ours. To do this, we adapt different types of packaging to fit each type of goods.
At DocShipper, our packaging teams receive continuous training to be in line with international standards on good packaging practices. It is also a way for us to master all types of packaging and to constantly optimize our way of proceeding.
DocShipper Tip: Although packing is a crucial phase in your move, this step is often overlooked. Big mistake! Your packaging, although it is expensive, will indeed condition your goods throughout the transport process. If you use our ECO package and manage the packaging yourself, do not hesitate to ask our consultants for advice.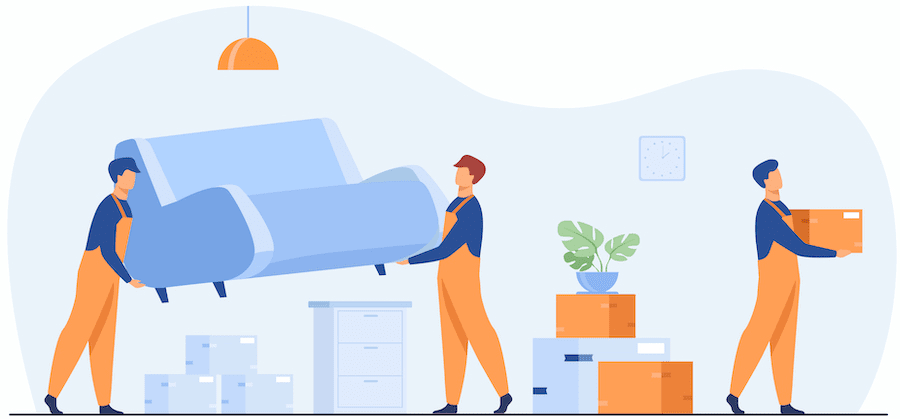 Benefits of our packaging services
Security
With packaging managed by our team, you can be sure to avoid the slightest damage on D-Day! We are used to this kind of procedure, so we will determine (with you) all the needs, however special they may be.
Comfort
Moving is often an essential step in our life, we don't move every day! It can therefore be quite stressful on certain points. Don't panic, with DocShipper, we manage all the procedures, you just have to take advantage of your expatriation as it should be!
Professionalism
If there is a job where we need to be professional, it is the packaging! It is certainly a fairly time-consuming task but at the same time technical, it is consequently important to show an iron rigor during this stage, an aptitude that we develop throughout our training.
DocShipper packaging
We advise and manage your move with quality and seriousness !
We perform moving services every day across the world. The packaging should be tailored to your needs and your budget. In any case, an international move will be much more prone to receiving shocks, it will therefore be necessary to adapt the method accordingly. This is due to the possible knocks that your furniture can take or the temperatures to which it can be subjected. We specialize in providing all moving services in apartments, shops, offices, premises, file movements, apartments, etc. But also depending on the goods: electronics, works of art, vehicles, bulky/heavy goods ...
We disassemble and assemble your furniture, our staff has the appropriate tools to perform their tasks efficiently and skillfully. We pack, protect and classify each of your belongings to ensure they are in perfect condition when they are transferred to your new home.
DocShipper advice : Are you opting for an ECO formula in order to benefit from an unbeatable price? Failing to save a significant amount, you will be responsible for the packaging, whether for your goods but also in the insurance's eyes. For example, if you book an entire container, we can drop it off in front of your old house for you to load. We continue with the transport and then drop it back in front of your new house for you to unload. That's it, you have made the most economical move on the market!
We insure your goods
If you are enlisting the help of a professional like DocShipper, you should consider benefits like insuring your house. We all know the stereotypes about insurance companies, well we'll just say that there is no smoke without fire! Indeed, letting professionals manage the packaging allows you to be fully insured in case of a dispute. If not, the insurer will tell you that the goods were not packed professionally and that the damage was caused by the negligence of this step ... And presto, you can say goodbye to compensation for your goods, so beware!
Regarding insurance, we can assist you in this procedure. This is done on a case-by-case basis but in most cases, you will be billed for insurance at 3% of the value declared in the packing list (valued inventory of your move). Do not hesitate to visit our dedicated page to learn more : Moving insurance
What kind of packaging do you need?
When we talk about moving packaging, we are referring to a multitude of thicknesses and sizes of boxes, plastic protection, adhesive tape, bubble wrap, wooden crates, and another technical packaging such as anti-oxidation packaging.
We have spent years wrapping all kinds of goods: tableware, for example, will not pack up the same way as a work of art. We have been involved in a plethora of moves, from the most sensitive to the most urgent.
When we take care of the packing, the only requirement that we ask our clients is to set a date for the start of the move as early as possible to be fully available both from a material and human point of view.
How to get a moving services quote?
The procedure is not complicated, it is even extremely easy! All you have to do is go to the contact page and fill out our online form. Subsequently, a DocShipper consultant will contact you within 24 hours to define with you the needs and offer you a personalized quote. There you have our offer!
DocShipper China | Procurement - Quality control - Logistics
Alibaba, Dhgate, made-in-china... Many know of websites to get supplies in Asia, but how many have come across a scam ?! It is very risky to pay an Asian supplier halfway around the world based only on promises! DocShipper offers you complete procurement services integrating logistics needs: purchasing, quality control, customization, licensing, transport...
Communication is important, which is why we strive to discuss in the most suitable way for you!