Few local moving companies can offer their clients such a powerful DocShipper experience. We provide our clients personalized services, fully tailored to their needs and specifications of their short-distance (national) move relocation.
There is greater complexity in domestic moves compared to international moves, so it is always vital to establish a strategic plan before launching operations! When it comes to moving, the slightest mistake will lead to an augmentation in delivery times, or even an increase in the budget for your move.
What is the secret to move locally properly?
Everyone who works at DocShipper is committed to treating each of their clients as if we are moving our own business, always trying to provide the best service. And to offer an optimal service, we must do it in advance: determine the specifications to anticipate the slightest needs, an essential point to ensure the smooth running of operations on the day-day.
National removals: our fleet of vehicles
If you are in need of a national moving company, we are, without a doubt, the best option. Our company has a fleet of several hundred vehicles perfectly equipped to carry out transport of very different magnitudes. Trucks equipped with air suspension systems and satellite tracking technology to provide real-time checking. Naturally, the trucks are also equipped with a tailgate to facilitate the loading and unloading of furniture on both departure and arrival.
In short, we have everything clients could possibly need during their local moves. We cater not only to companies but also to private customers and families. We have been shipping and transferring goods, furniture or personal effects around the world for years, so your goods are in good hands!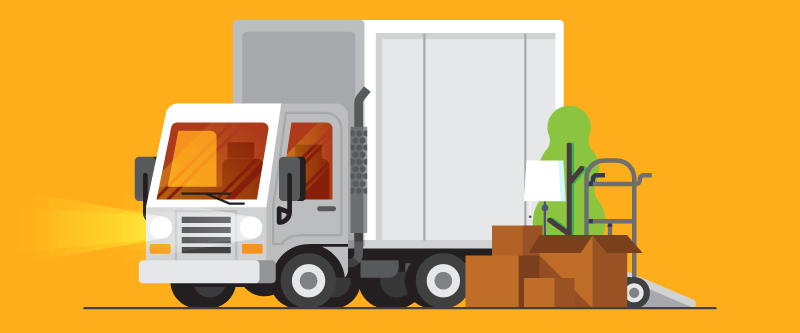 How much will cost your move?
A few days before making local or international moves, your DocShipper moving consultants analyze your project in order to determine the number of goods to be moved and to assess with the greatest precision the packaging, personnel and time requirements. In this way, when the appointed day arrives, each of the operators knows his mission perfectly, while the client has received a budget totally adjusted to the contracted services, making the move the best price you can find on the market.
DocShipper Advice: Speaking of competitive moving, you've probably seen our ECO formula ?! This is definitely the solution to having the cheapest moving service on the market! Get involved in operations including packing and loading on departure as well as unloading and unpacking on arrival ... You couldn't get less! More information on this formula on the following link: ECO formula - Moving at the best price!
Thousands of satisfied customers with local moving service
Have you ever wondered why DocShipper has become one of the leading companies dedicated to national and international removals? Here are some answers:
Professionalism of all those who are or have been part of our workforce
Constant renovation of vehicles and tools for removals
Confidence generated by an international network
Thousands of satisfied customers
Price adjusted to the needs of our customers
Local move | You deserve the best!
For a local relocation, we offer our customers the best service. During these years, we have characterized ourselves by offering our customers a service based on personalization in a complete way to the needs and specifications of the users. Few of the companies in our industry provide quality services that are fully customizable. If you need to contact a local moving company, DocShipper is your best solution.
To carry out local moves, our teams handle clients' personal effects in vehicles with the latest technology:
Pneumatic suspension
Satellite tracking system
Tail lifts for easy loading and unloading
Furniture assembly cranes with the possibility of reaching the 12th floor during moves
How to get a quote for a local move?
The procedure is not complicated, it is even extremely easy! All you have to do is go to the contact page and fill out our online form. Subsequently, a DocShipper consultant will contact you within 24 hours to define with you the needs and offer you a dedicated quote. There you have our offer!
DocShipper China | Procurement - Quality control - Logistics
Alibaba, Dhgate, made-in-china... Many know of websites to get supplies in Asia, but how many have come across a scam ?! It is very risky to pay an Asian supplier halfway around the world based only on promises! DocShipper offers you complete procurement services integrating logistics needs: purchasing, quality control, customization, licensing, transport...
Communication is important, which is why we strive to discuss in the most suitable way for you!