Would you like to move your entire house to one place to another? Our solution is made for you ! Although not slow enough, it has the advantage of being the most competitive method of transport for long distances and large volumes (generally greater than two cubic meters).
What is an international move by boat?
As its name suggests, the removal will be carried out by boat in order to send it from the port of origin to the arrival one. Moreover, we will take over with road freight operations (by truck) to connect the terminals.
When you move by sea, you have 2 options: you can opt for a maritime groupage solution (LCL – Less Than Container Load) or book an entire container (FCL – Full Container). It naturally depends on your volume.
Groupage moving: Your goods will be consolidated in a container with the goods of other shippers in order to save on international freight costs. There will therefore be handling on departure and arrival to consolidate / de-consolidate the container.
Moving in a full container: If you have a large volume (generally greater than 12 cubic meters), the optimal solution will be to book a full container. The advantage will be that it will be sealed from departure (your old accommodation) until arrival (in your new accommodation). There will be less handling and therefore less risk of damage.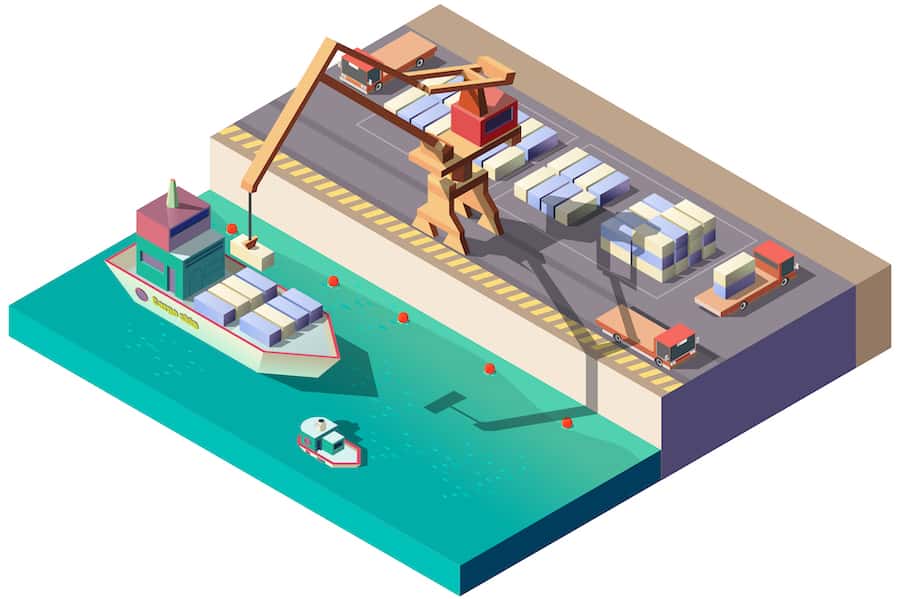 What is the price of an international move by sea?
It is difficult – if not impossible – to give an indicative price since it varies extremely! Indeed, it is good to know that in the international moving industry, the majority of expenses are impacted by human actions. Machines can by nature achieve economies of scale!
For example, a boat that can transport thousands of containers over thousands of kilometers can be much cheaper for you than a simple packing service! It all depends on the necessary handling …
Indeed, the most important expense of relocation will be the packing service. It requires blocking several employees for a few hours, or even several days, at a certain price, especially in countries with high salaries.
In addition to the handling required on your project, a multitude of factors can influence the price, here is a non-exhaustive list:
The complexity of the packaging
The distance in km between accommodations and terminals
Access conditions
Volume and total weight
The method of transport
The value of the goods
Advantages of maritime transport to move your households
The price above all. While being the slowest method of transport (up to 45 days door to door), it has the merit of being the most economical method on the market.
Transport capacity. Another advantage of sea freight is its capacity. Indeed, unlike air freight, the capacity of a sea container can be up to 76 cubic meters. If necessary, we can also send multiple containers.
The flexibility of the service. Ocean freight also has the advantage of being much less restrictive than air freight. With less security measures, for example, you will be allowed to ship batteries or other sensitive goods.
The global network. Boats have access to all international ports and therefore to a majority of countries in the world. In any case, the rest of the way will be done by truck.
Safety first. Finally, sea freight has the advantage of being a very secure method with a reduction in the number of handling operations and therefore potential damage. Finally, if you opt for a full container, your container will be sealed from departure to arrival.
How to get a moving services quote?
The procedure is not complicated, it is even extremely easy! All you have to do is go to the contact page and fill out our online form. Subsequently, a DocShipper consultant will contact you within 24 hours to define with you the needs and offer you a personalized quote. There you have our offer!
DocShipper China | Procurement – Quality control – Logistics
Alibaba, Dhgate, made-in-china… Many know of websites to get supplies in Asia, but how many have come across a scam ?! It is very risky to pay an Asian supplier halfway around the world based only on promises! DocShipper offers you complete procurement services integrating logistics needs: purchasing, quality control, customization, licensing, transport…
Communication is important, which is why we strive to discuss in the most suitable way for you!